Ramsay & Jackson Ltd – Lawn & Garden Sales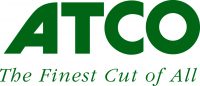 Atco have been manufacturing fine quality mowers for the lawns of Great Britain since 1921 and have earned an enviable reputation for outstanding quality and performance.
Our lawn mowers can be found from royal palaces to village greens, cricket pitches to tennis courts, stately homes to your own beautiful lawn.
We are very proud of our heritage and the fact that we have been manufacturing outstanding lawnmowers for more than 90 years – helping owners maintain their lawns and providing the finest cut of all.
We make no compromise on our engine choice either, only using engines from the finest engine manufacturers in the world – Briggs & Stratton, Honda and Kawasaki.

Established in Sweden in 1934, Stiga has more than 80 years of experience in innovating consumer products. According to its tradition and demanding Nordic climates, all Stiga products are high in quality and excel in performance.
Stiga is well known for the quality and reliability of its lawnmowers, front cut ride ons, lawn tractors and garden equipment. The Stiga name has been associated with lawnmowers, garden tractors, and ride on mowers for over 80 years.
When you buy a Stiga product you are buying a quality machine that will provide you with years of service and reliability.
We also stock a small range of chemicals and weedkillers.